A few months back Child's Voice was referred to us by a good client of ours (thank for the referral!). They wanted to spruce up their monument sign that has been in place for a considerable amount of time, but budget was a big concern.
We consulted with the school and decided to reface the existing monument sign to save money. We took care of all of the design, permitting, and installation. See the before and after pictures below. The new look uses their new logo and visually catches your eye.
As a result of our work Dr. Michele Wilkins had this to say:
"Mark Your Space was a fantastic partner! Not only did they strive to provide a great new sign at our location, but they were critical in helping to navigate the hidden pieces of an outdoor sign (permits and city ordinances). Mark Your Space did everything they could to make our sign look great and get things done in a timely fashion. We look forward to working with them again."
-Dr. Michele Wilkins, Executive Director
Child's Voice
We really enjoyed working with Child's Voice and look forward to working together in the future to help them raise funds for their school.
Child's Voice is a listening and spoken language program for children with hearing loss. Child's Voice is a non-public, state-accredited program located in suburban Chicago that was founded by a group of dedicated and determined parents who believe that children with hearing loss should have the opportunity to listen and talk.
Please visit them at
http://www.childsvoice.org
or call
(630) 595-8200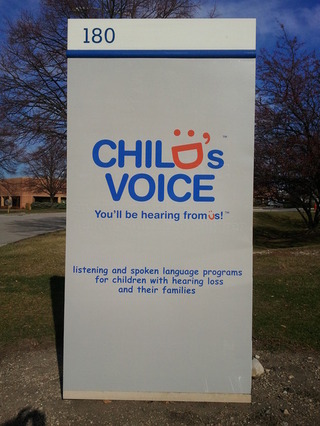 Exterior Monument Sign - Child's Voice